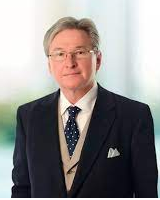 David Gossett
Firm: Nexsen Pruet
Location: Greenville - SC
104 South Main Street, Suite 900




Greenville, South Carolina 29601




USA
Tel : 864.370.2211

Fax : 864.282.1177

Email : dgossett@nexsenpruet.com

David Gossett's leadership and innovative thinking are crucial not only to Nexsen Pruet, but also to many of the clients he represents. No matter how daunting an issue, David's understanding spans beyond just the legal problem at hand: he has a deep understanding of the surrounding environment and of the clients themselves.
David's law practice is focused on representing lending institutions that provide financing that fuels America's economy, including some of the larger agribusinesses in the country. He recognizes that without a qualified lender, it is practically impossible for businesses to start, grow or expand.
Because the very nature of economic development and real estate projects involve some element of risk, David's decades of experience helps him provide perspective and advice that take the worry out of deals, whether they are asset-based, commercial or construction and development loans. When a need arises, David can guide clients through workouts and debt restructuring.
David serves on the board of Greenville S.C.'s Artisphere, one of the top-ranked art festivals in America.
Experience
Lead counsel to lender consortium for combined $175,000,000 senior secured loans to group of timberland
holding companies
Lead counsel for syndicated lenders on $85,000,000 senior secured credit facilities to finance health care
facilities
Lead counsel to lending consortium for combined $57,500,000 term and working capital facilities to forest product
processing companies
Lead counsel to lending consortium for $65,000,000 revolving line of credit (asset- based) and $50,000,000 term
loan to citrus processing and growing companies
Co-lead counsel (collateral agent), for syndicated $600,000,000 credit facilities to sugar processing company
Lead counsel for lending consortium on $200,000,000 asset-based revolving line of credit to cattle feedlot
operation
Lead counsel for lending consortium on $60,000,000 line of credit for oil and gas exploration entity in Oklahoma
Lead counsel to lending consortium for $25,000,000 credit facilities for construction and operation of wood
processing facility
Lead bank counsel for $50,000,000 acquisition line of credit for holding company to purchase target companies
Lead counsel for senior secured credit facilities totaling $19,000,000 to flooring products distributor
Lead counsel for syndicated credit facilities totaling $70,500,000 to provide term debt and working capital for
cement manufacturing company
Lead counsel for syndicated $27,000,000 senior secured credit facility to pipe manufacturing company
Senior counsel to consortium of lenders purchasing $305,000,000 of $1,500,000,000 senior secured term debt
for multi-state timberlands
Lead counsel for lender on $14,765,000 construction loan to finance a technology park
Lead counsel to lender for $25,000,000 senior secured credit facilities for term debt, operating capital and
acquisition funds for heating and air conditioning distribution company
Lead counsel for lender on $18,000,000 senior secured credit facilities for wood pellet manufacturing plant
Lead counsel for lending consortium on $68,000,000 credit facilities for construction of ethanol production plant Rural America Bond Program
Recognitions
Exclusive Featured Attorney Representing Greenville, Premier Banking Lawyers 2022
Recognized by Chambers USA, Corporate/M&A: Banking & Finance, South Carolina 2016-2020 and Real Estate,
South Carolina 2005-2018
Listed in Best Lawyers in America for Real Estate Law and Banking and Finance, Since 2010
South Carolina Super Lawyers in Banking, Real Estate Law 2012-2018
Greenville Business Magazine's Legal Elite of the Upstate, 2015, 2018 and 2019 in Agriculture and 2022 in
Agribusiness, Banking & Finance, Corporate Law, Mergers & Acquisitions
BTI Client Service All-Star Attorneys 2016
Community & Professional
South Carolina Bar
North Carolina Bar
Palmetto Agribusiness Council – Rural Economic Development Committee
Speaking Engagements
Regular Presenter on the standards of conduct and ethical duties for Farm Credit Directors and Employees
Faculty Member and Presenter, Regulatory Standards of Conduct and Fiduciary Duties; Directing Positive Change
Conference, New Orleans, LA; January 2014
Faculty Member and Presenter, Legal Issues in Capital Markets Lending, AgFirst Lending Symposium, 2015/2016/2017
---
Nexsen Pruet
The firm's finance lawyers understand that our clients are focused on practical results and risk mitigation within the context of the deals we work on.  We are able to provide sophisticated legal and practical advice and service through the entire deal process from initial structuring, through closing documentation, the negotiation and documentation of modifications and, if necessary, restructuring, workout and/or creditor bankruptcy representation.
Nexsen Pruet's lending clients include national banking associations, specialized lenders, insurance companies, governmental and other regulated lenders, mezzanine finance funds and conduit lenders.
Because of our wide-ranging experience and our ability to allocate our resources and put together deal teams in a thoughtful and efficient manner, we are able to provide top-level legal service with respect to both the most sophisticated transactions and the most straight-forward deals while, in each case, remaining conscious of our clients' need to control costs and the need to, in every instance, produce outstanding results.
Our finance lawyers are routinely able to, as necessary, take advantage of the firm's abilities in fields related to various transactions.  As a result, we frequently team with our Public Finance, Creditor's Rights, Commercial and Construction Litigation, Environmental and/or Economic Development groups to provide focused guidance on specific deal issues.
Whether involving hundreds of thousands or hundreds of millions of dollars, we are able to provide tailored and focused counsel on transactions across a wide variety of financing structures.