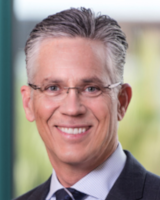 Douglas L. Waldorf
Firm: COHEN & GRIGSBY, P.C.
Location: Naples - FL
Mercato – Suite 6200




9110 Strada Place




Naples, FL 34108-2938
Tel : 239-444-1844

Fax : 239-390-1901

Email : dwaldorf@cohenlaw.com

Doug Waldorf, a Director at Cohen & Grigsby, P.C., has practiced law in Southwest Florida since 1987, including more than a decade as in-house counsel for SunTrust Bank. He is Board Certified in real estate by The Florida Bar since 2002, and listed in The Best Lawyers in America in both Banking and Finance Law and Real Estate Law (2016-2019), in Super Lawyers (2017-2019), and Naples Illustrated's List of Top Lawyers (2018-2019). Doug represents institutional and private equity lenders in structuring, documenting and closing commercial and residential financing transactions including construction financing, asset-based loans, loan syndications and participations, bond financing and SBA loans. He has extensive experience in mortgage foreclosures, deeds in lieu of foreclosure, forbearance agreements and other matters related to defaulted loan workouts and collection. In addition, his practice areas include both commercial and residential real estate purchase and sale transactions, leasing and related landlord/tenant matters, and business entity selection and formation for real estate transactions.
Doug is a frequent lecturer for the Miami-based Center for Financial Training presenting educational seminars on loan documentation, loan defaults and collection, real estate law and mortgage foreclosure.
A lifelong resident of Southwest Florida, Doug is a member of Ave Maria Law School's Board of Advisors and serves on the Board of Trustees of the Alvin A. Dubin Alzheimer's Resource Center and chairs its steering committee for the annual Alzheimer's Symposium, hosted by the Center in partnership with Florida Gulf Coast University.
---
COHEN & GRIGSBY, P.C.
At Cohen & Grigsby, our more than 140 attorneys are honored by the long term client relationships that we have developed and the opportunity to act as trusted advisors to dynamic and growing businesses. Founded in 1981, we serve our clients with the know-how and wisdom that comes with decades in practice. Regionally and globally, we put our experience to work for you.
We approach every interaction with our clients as an opportunity to help solve their challenges and meet their goals. Our Firm's Culture of Performance® recognizes that the context and manner in which we provide our services is a key component of the value that we offer to our clients.
As part of that culture, we understand that achieving optimal results is the true mark of solid performance. We embrace a work ethic that does not begin and end with the billable hour, but rather is rooted in our mission to serve our clients as both legal counsel and business advisers.
We strive to deliver the best talent and work product to our clients and our community. It drives our approach to serve as legal counselors as well as business advisors to our clients so that we can anticipate obstacles, secure opportunities and ensure a better community to live.
Our true impact is measurable when the value of our services has a positive impact on your bottom line. We add value by efficiently obtaining results, limiting and reducing costs, reducing risk and understanding your business.
What makes your business successful is important to us and we will partner with you and invest the time to understand those needs. Our goal is to anticipate your needs and create legal strategies accordingly.