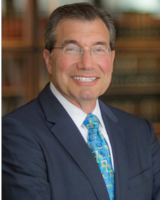 Leslie M. Apple
Firm: Whiteman Osterman & Hanna LLP
Location: Albany - NY
One Commerce Plaza 99 Washington Avenue




Albany, NY 12260




USA
Tel : 518-487-7770

Fax : 518-487-7777

Email : lapple@woh.com

Les Apple has been a partner at Whiteman Osterman & Hanna since joining the Firm in 1995 and is co-chair of the Firm's Corporate and Business Practice Group. Mr. Apple primarily concentrates his practice in the areas of mergers and acquisitions, investment advisor and broker-dealer compliance, and banking and finance, including de novo bank formation. He also regularly engages as strategy counsel to financial institutions and as lead counsel on project financings. Mr. Apple's clients include and have included public and private companies, registered investment advisors, broker-dealers, banks and investment funds.
REPRESENTATIVE ACCOMPLISHMENTS
Lead counsel on the sale of a 1,100-employee company to a private equity fund.
Lead counsel on a $60 million management buyout of a 175-employee division of a multinational company.
Lead counsel to a North American manufacturer in connection with a series of acquisitions totaling $200 million and involving more than 1200 employees.
Lead counsel on de novo bank formations.
Lead counsel to an U.S. – Austrian joint venture in the sale of the constituent companies.
Lead counsel on going-private transactions.
Special counsel on bank merger and acquisition transactions.
Strategy counsel on hostile takeovers and takeover defense.
General corporate counsel to a number of privately owned businesses on banking and business strategy matters.
Special counsel to Boards of Directors on governance matters.
Lead counsel on an $100 million bank and partnership fraud investigation and litigation proceedings
AFFILIATIONS
Mr. Apple is a member of the American Bar Association's Business, Banking and Taxation Sections. He is also a member of the New York State Bar Association's Business Law and Taxation Sections and a member of the Albany County Bar Association. Mr. Apple has been selected to the Best Lawyers in America®, and was named Best Lawyers® "Lawyer of the Year" in the practice area of Corporate Law and selected as a Super Lawyers® Top Rated Mergers & Acquisitions Attorney.
---
Whiteman Osterman & Hanna LLP
Whiteman Osterman & Hanna LLP, a law firm based in Albany, New York, has a diverse practice that goes beyond the conventional – fostering new ideas and approaches.
Today's legal issues are vastly more complex than ever before. Most legal matters require expertise in a myriad of areas of the law. Many matters bring new twists that require creativity as well as cutting-edge legal knowledge.
Whether a client has a legal challenge that is a case without precedent, a regulatory roadblock or a topic of public controversy, our goal is to achieve result-focused solutions – in whatever forum the situation demands.
We use a team approach to solve complex issues, bringing together attorneys with a depth of knowledge in a wide range of concentrations to ensure that all facets of a situation are considered. It is not surprising that hundreds of clients, from FORTUNE 500 companies, to government agencies, to small and middle market businesses, come to us for solutions to difficult challenges — and stay for long-term relationships.
We invite you to join them.