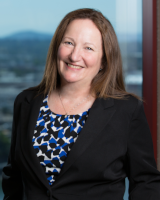 Valerie Athena Tomasi
Firm: Tomasi Salyer Martin
Location: Portland - OR
121 SW Morrison St, Suite 1850




Portland, OR 97204




USA
Tel : 503-894-9900

Fax : 971-544-7236

Email : vtomasi@tomasilegal.com

Valerie was selected as the exclusive featured Attorney representing Portland Oregon by Premier Banking Lawyers for 2019 as well as Oregon Super Lawyers list in banking and real estate law by her peers and by Law & Politics (2006, 2007, 2008, 2009, 2014, 2015, 2016, 2017, 2018 and 2019), and as one of Oregon's 50 Great Leaders by Oregon Business magazine (2007). She is also the recipient of a Global Awards 2015 Corporate LiveWire for real estate law in Oregon.
Since 1984, Valerie's practice has focused on real estate and business transactions, loan documentation, construction, restructures and workouts. Her primary focus is representing financial service providers and businesses on complex commercial real estate projects, including acquisition, construction, leasing, and lending issues, and she has represented lenders in real estate lending transactions nationwide providing efficient and thorough legal analysis. Valerie's years of experience and proficient processes allow her to produce quality loan documentation (including workout, restructure, and forbearance agreements) in days instead of weeks.
In addition to her law practice, Valerie was an adjunct professor for several terms at Lewis and Clark Law School teaching advanced commercial real estate law.
Before deciding to launch Tomasi Salyer Martin, Valerie was a shareholder at Farleigh Wada Witt from its formation in January 1990 through June 2012. She served as president for seven years ending in 2007 and as chair of the real estate practice group during her entire tenure.
---
Tomasi Salyer Martin
At Tomasi Salyer Martin, we are passionate about finding ways to help our clients succeed in this challenging and competitive marketplace; passionate about providing highly responsive, creative, effective, and cost-efficient legal services for our clients; and passionate about achieving the best possible results for our clients. Our goal is to get it done quickly, to get it done efficiently, and to get it done right.
Formed in 2012, our attorneys have extensive expertise in providing legal services to financial institutions, businesses, and tax-exempt organizations. We understand that our clients desire creative but practical solutions, with an eye always fixed on the bottom line. Our mission is to understand our clients' individual goals and to achieve the best results possible given those goals. Our services are always customized to meet the individual needs of each client. We have zero tolerance for the cookie cutter approach to client service.
Tomasi Salyer Martin is passionate about teamwork with our clients and with each other, passionate about supporting our community, and passionate about providing a congenial, supportive work environment where all employees and clients are treated with the highest level of professionalism, kindness, and respect.