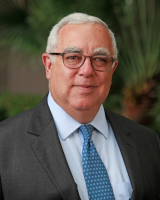 Alcides I. Avila
Firm: Avila Rodriguez Hernandez Mena & Ferri LLP
Location: Coral Gables - FL
2525 Ponce de Leon Boulevard, Penthouse




1225 Coral Gables, Florida 33134-6049




USA
Tel : 305.779.3570

Fax : 305.779.3561

Email : aavila@arhmf.com

Alcides I. Avila is a founding partner of ARHMF and an attorney in its Corporate and Financial Services practice. Prior to the formation of ARHMF in 2007, Mr. Avila was a partner in the Miami office of an AmLaw 20 national law firm and was the practice group leader of that firm's Financial Services Practice Group. Mr. Avila represents domestic and foreign clients in all aspects of bank regulatory, lending, mergers and acquisitions and other transactional matters. With over 35 years of experience, he regularly represents clients before the Federal Reserve, the Federal Deposit Insurance Corporation, the Office of the Comptroller of the Currency, the Florida Office of Financial Regulation and other regulatory agencies. Mr. Avila has represented numerous foreign financial institutions and investors in establishing and expanding banking operations in the United States. In addition to his banking practice, he has extensive experience in domestic and international business transactions, including cross-border mergers and acquisitions and financings. Mr. Avila has also served as independent counsel to the Board of Directors of various banks in connection with compliance and enforcement actions.
Matters
Represented Banco de Credito e Inversiones (BCI), the third largest bank in Chile, in the purchase of City National Bank of Florida from Bankia, S.A., for a purchase price of U.S. $946,900,000, including due diligence, negotiation of the purchase agreement, U.S. regulatory filings and all other transactional matters.
Represented group of foreign investors in the acquisition of Espirito Santo Bank from the Portuguese bank, Banco Espirito Santo, including due diligence, negotiation of the purchase agreement, U.S. regulatory filings and all other transactional matters.
Represented a Bolivian investor in acquisition of a $5,000,000 majority interest in Anchor Commercial Bank.
Represented the shareholders of Union Credit Bank in the sale of a controlling interest to the Apollo Group.
Represented lender with a $111,000,000 gap financing transaction involving the assignment of certain rights under a construction contract with the Florida Department of Transportation. The project was the first of its type in Florida.
Represented numerous foreign banks in establishing representative offices, agencies and branch offices in the United States.
Represented a number of Spanish financial institutions in connection with U.S. regulatory issues arising from integration and consolidations transactions in Spain.
Represented major Latin American banks in establishing broker dealer affiliates in the U.S.
Represented numerous domestic and foreign banks in regulatory enforcement actions.
Represented independent boards of directors in matters involving regulatory civil monetary penalties.
---
Avila Rodriguez Hernandez Mena & Ferri LLP
ARHMF blends depth of practice and sophistication with personalized service and flexibility to provide a well-rounded, exceptional client experience and successful representation.
ARHMF offers innovative solutions to complex and routine legal needs. By becoming an extension of clients' businesses, ARHMF is able to customize the experience so that solutions suit each client's unique needs and each matter's distinct nuances.