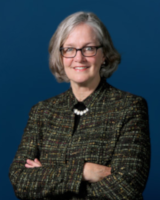 Amanda Van Dusen
Firm: Miller Canfield
Location: Detroit - MI
150 West Jefferson Suite 2500




Detroit, Michigan 48226




USA
Tel : 313.496.7512

Fax : 313.963.6420

Email : vandusen@millercanfield.com

fter more than 35 years in practice, Amanda Van Dusen continues to distinguish herself as one of the most successful and influential public finance attorneys in the State of Michigan. Amanda has been recognized for her public finance work by Best Lawyers in America every year since 2003 and she was named Detroit Public Finance Lawyer of the Year in both 2015 and 2017.
Amanda's practice includes a wide array of public law clients including the City of Detroit, school districts (K-12 and higher), airports, counties and solid waste management authorities as bond counsel in financing transactions and special counsel for local governments in connection with intergovernmental agreements, elections, campaign finance compliance, state and federal tax issues, and general finance (budgets, revenue sources and cash flow). The range of Amanda's clients and her extensive volunteer involvement in public policy, education, the arts and community development help Amanda develop creative solutions which balance risks and opportunities and fit her clients' needs and objectives. That wide-ranging exposure has also taught her how to break down complex issues into understandable terms for diverse stakeholders. Most recently Amanda put these skills to use for the City of Detroit as the City's lead public finance lawyer during and after the City's bankruptcy, for the Detroit Public Schools in their efforts to create innovative solutions for struggling schools and students and in the everyday challenges facing local governments in fast-changing times. Service to her clients also requires frequent contact with state officials, who are often central to a successful initiative.
Amanda has also held numerous leadership positions with the firm and, as a member of a number of nonprofits and their boards, is actively engaged in the arts, public policy and philanthropic efforts across Michigan.
---
Miller Canfield
Since 1852, Miller Canfield's collaborative approach, deep resources and network of local, regional and worldwide relationships have helped our lawyers get work done quickly, efficiently and successfully for our clients. We engage the best people, best practices and deliver the best possible results. We know our clients' businesses, organizations and industries and look out for their best interests. They look to us for legal expertise as well as insight and business advice. Together, we build businesses, communities and prosperity.
We don't just advise. We make things happen.