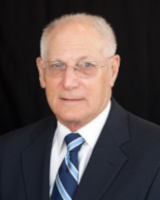 Barry Z. Wallack
Firm: Wallack Somers & Haas, P.C.
Location: Indianapolis - IN
One Indiana Square, Suite 2300




Indianapolis, IN 46204




USA
Tel : (317) 231-9000

Fax : (317) 231-9900

Email : bzw@wshlaw.com
Barry Wallack's experience in leasing, lending, borrowing, development, operation, and syndication has varied from representing clients in $300-million public debt offerings, to sales and purchases of real estate projects of all sizes in various states, development of numerous apartment projects (consisting of more than 20,000 apartment units) in various geographic locations, leasing of office buildings and shopping centers, and lender representation in all types of mortgage loans from a free-standing corner drug store to the home office of a life insurance company. He has represented such lenders as Aetna Life Insurance Company, KeyBank National Association, Fifth Third Bank, and Allstate Life Insurance Company. Additionally, he has represented borrowers/developers such as Oxford Development Corporation, which was at one time the fourth-largest apartment developer/manager in the United States. Mr. Wallack began his legal career at Baker & Daniels and later moved to Klineman Rose Wolf & Wallack (where he was managing partner) and Wallack & Wallack before becoming a Co-Founding Partner of Wallack Somers & Haas in 1999.
Mr. Wallack, a graduate of the University of Wisconsin (B.S., J.D.), has received numerous honors, including the Order of the Coif. Editorial Board, University of Wisconsin Law Review. In addition, Mr. Wallack has been listed in the Best Lawyers in America, 1995-2013, cited by Indianapolis Monthly as one of the top real estate lawyers in the city, has been consistently given a number 1 ranking by Chambers & Partners amongst real estate attorneys in Indiana and has been named by Indiana's Best Lawyers as Lawyer of the Year – Real Estate 2011.  He has also served on several boards, including the St. Vincent Foundation (2000-2004); the Congregation Beth-El Zedek Foundation (1996-2011); and JT's Hand, a Neonatal Fund (1997-2003).
---
Wallack Somers & Haas, P.C.
Wallack Somers & Haas, P.C., is a boutique law firm formed by Barry and Michael Wallack, George Somers, and Karl Haas in March 1999. Our practice is concentrated on serving the legal needs of the commercial real estate community.
Our firm is founded on the belief that the real estate community is looking for "big firm" legal expertise and experience in an entrepreneurial "small firm" setting. Our goal is to provide the highest quality real estate legal services at a fair price and without the delays, cost, and frustration of delegation.
Our three senior partners collectively have more than 75 years experience in serving real estate clients. Over the last 25 years, our partners have played a significant and often primary role in the vast majority of the real estate projects that have shaped and formed Indianapolis. A representative sampling includes the redevelopments of the Glendale Mall, Murat Theater, and Naval Air Warfare Center; and the development of the Circle Center Mall; the Farm Bureau headquarters building; the Anthem administrative campus; the Klipsch Music Center; the Brightpoint, Target, and Vanstar distribution facilities; University Place Hotel and Conference Center; the Pan Am Plaza complex; Conseco Fieldhouse; and the Capital Center and 300 North Meridian office buildings. In addition, our partners have represented office, retail, industrial, distribution, hotel, and multi-family developers on a local, regional, and national basis, as well as landlords, tenants, and major financial institutions, such as Aetna Life Insurance Company, ING Life Insurance Company, Allstate Life Insurance Company, KeyBank, Fifth Third Bank, and Charter One Bank.