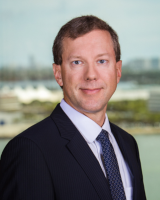 Bryan Wells
Firm: Shutts
Location: Miami - FL
200 South Biscayne Boulevard, Suite 4100




Miami, FL 33131




USA
Tel : 305-347-7300

Fax : 305-381-9982

Email : BWells@shutts.com

Bryan Wells is a partner in the Miami office of Shutts & Bowen LLP, where he is Co-Chair of the Financial Services Practice Group.
Bryan has been named as one of the Best Lawyers in America® in banking and finance law and is recognized by Chambers USA as one of America's Leading Lawyers for Business. He has been a strong advocate for the financial services industry for more than two decades. Bryan represents domestic and non-U.S. banks, broker-dealers and investment advisory firms, in a wide range of regulatory, transactional, enforcement and corporate matters.
He has extensive experience in mergers and acquisitions, establishing and expanding financial institutions and structuring and documenting investment products and services. Bryan provides counsel in banking and securities regulatory enforcement and examination proceedings. He also regularly handles anti-money laundering compliance matters.
Bryan is a frequent speaker on issues of relevance to the financial services industry and has served as an Adjunct Professor of Banking Law at the University of Miami School of Law. He currently serves as General Counsel to the Florida International Bankers Association.
Prior to joining Shutts, Bryan was a judicial law clerk to United States District Court Judge William M. Hoeveler.
---
Shutts
Shutts & Bowen LLP is a full-service law firm with a deep connection to Florida's history, a commitment to excellent service for our clients and community, and a focus on diversity in the workplace. For more than 100 years, Shutts has been opening doors to our business clients across the state with sophisticated, cutting-edge legal skills from Florida's top legal talent.
Our firm employs approximately 300 attorneys who focus on more than 30 distinct practice areas, including litigation, construction, financial services, corporate, mergers and acquisitions, securities, hospitality, insurance, real estate, taxation and trusts and estates. At Shutts, we are committed to offering sophisticated legal services efficiently and responsively. We work tirelessly with businesses and individual clients, as well as with referring national and international law firms and companies. We always strive to provide the highest degree of professionalism and passion for our work.
Shutts & Bowen's attorneys work in an environment where people are recognized for their value as individuals, giving them the autonomy and freedom to best serve their clients.
Because of our stake in the past, we are poised to become the law firm of the future.