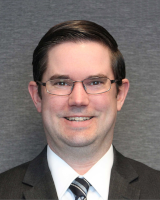 Casey D. O'Connell
Firm: Halloran Sage
Location: Hartford - CT
One Goodwin Square




225 Asylum Street




Hartford, CT 06103
Tel : 860.241.4062

Fax : 860.548.0006

Email : oconnell@halloransage.com

Casey O'Connell brings an ethic for hard work and a propensity for effective organization to his clients' matters in the areas of business and commercial law, finance, and real estate. For those who are forming a business, financing a business, buying a business, or taking additional steps along their path to success, Casey is fully committed to providing practical legal advice. He is efficient because he respects clients' time, and he delivers on his commitments because he is personally involved—qualities that make him a trusted advisor.
Acquisitions are an area in which Casey demonstrates his efficiency and diligence. He has a depth of experience in documenting and closing business transactions, as well as formulating contractual mechanisms to facilitate the organization, financing, operation and sale of various business entities. His approach engenders trust. Notably, after guiding a company through a simultaneous closing of an equity financing and business acquisition, the company indicated their confidence in the partnership by retaining Casey as general counsel.
Casey delivers excellence to lenders and borrowers in the documentation and execution of secured and unsecured loans and credit arrangements. With an understanding of their ultimate goals, he advises employers in the creation of employment and non-compete agreements. In addition, he advises a wide range of businesses on contractual matters and real estate acquisitions.
Casey has a long history of contributing to the success of winning teams. Before entering law school, he was the director of media relations for the New England Patriots, handling the organization's written media materials and helping to create and implement public relations strategies.
Casey has been selected by Super Lawyers® as a "Rising Star" in the areas of Business/Corporate in each year since 2015. He was named as one of the Connecticut Law Tribune's "New Leaders in the Law" in 2015.
---
Halloran Sage
Halloran Sage's attorneys serve as trusted counselors to businesses of all sizes in addressing their legal issues. We provide planning and advice on contract negotiation and interpretation, business organization and governance, securities law compliance, capital formation and financing of business ventures. We regularly represent clients in business transactions involving mergers and acquisitions, stock sales, asset sales, joint ventures, intellectual property, licensing, franchise and distribution, strategic alliances and other partnering arrangements, as well as debt and equity financing. We assist clients in all aspects of these transactions, including providing advice on structure and how best to negotiate, as well as providing specialized advice on securities, taxation, ERISA, intellectual property and labor and employment matters.
We serve as general counsel to a variety of businesses. We have experience with the operations and needs of companies in a range of industries and strategic endeavors. We regularly work with service-based enterprises and companies operating in a variety of fields, including retail, manufacturing, construction, transportation, recreation, leisure and energy. Our clients include emerging and entrepreneurially driven growth companies focused on health care, medical products, technology, sporting goods, recreational services, restaurant services, insurance and financial, and online retail, among others.
We offer comprehensive business consultation and practical and creative solutions to achieve clients' business goals. Our practice is distinguished not solely by our legal skills, but also by our business savvy. Throughout our representation, we work closely with you to ensure a legal strategy that matches your financial strategy.