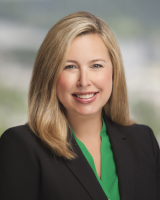 D. Nicole Lovell
Firm: MITCHELL, WILLIAMS, SELIG, GATES & WOODYARD, P.L.L.C.
Location: Little Rock - AR
425 West Capitol Avenue Suite 1800




Little Rock, Arkansas 72201




USA
Tel : (501) 688.8889

Fax : (501) 688.8807

Email : nlovell@mwlaw.com

Nikki Lovell serves as counsel and close company advisor representing both publicly-held and privately-held companies throughout the United States in mergers and acquisitions, capital raises and general securities compliance. She has extensive experience in representing financial institutions, logistics companies, service companies, professional service providers, real estate companies and insurance companies as both buyers and sellers in merger and acquisition transactions. Nikki's general corporate practice includes contract drafting and negotiations, entity selection and formation, corporation capitalization and restructuring and corporate governance. She also functions as outside general counsel to many of the Firm's clients advising them on a variety of legal issues. Her experience extends to a variety of commercial matters including commercial loan transactions on behalf of borrowers and lenders, and real estate transactions on behalf of sellers, purchasers, lessors and lessees.  Nikki serves as a member of the Firm's Board of Directors.
Experience
Assists clients with private and public offerings of debt and equity including the preparation of registration statements, private offering memoranda and federal and blue sky securities compliance.
Represents acquirers of businesses throughout the acquisition process including advising as to structure, leading and managing the due diligence process with the breadth of experience of the Firm's mergers and acquisition team, and drafting and negotiating purchase agreements and disclosure documents.
Represents sellers of businesses throughout the sale process including assisting selling companies in their efforts to prepare a company to be marketed for sale, structuring proposed sales and drafting and negotiating purchase agreements and disclosure documents.
Drafts and reviews periodic reports and proxy statements, preparing Section 16 reports and advising on Regulation FD disclosure and reporting requirements.
Prepares and reviews various types of business contracts including those for the sale of goods and services in various industries.
Serves as outside general counsel to various clients.
Professional Recognition
Chambers USA: Ranked in Corporate/Commercial in Arkansas (2016-2021)
The Best Lawyers in America©: Corporate Law (2011-2022)
The Best Lawyers in America©: Securities / Capital Markets Law (2013-2022)
Mid-South Super Lawyers: Business/Corporate  (2016-2020)
Arkansas Business Executive Leadership Academy, Class of 2019
Premier Banking Lawyers: Exclusive Recommended Attorney Little Rock AR (2019)
Mid-South Super Lawyers Rising Star:  (2008, 2010-2015)
Arkansas Business 40 Under 40 (2015)
---
Mitchell Williams
For 65 years, Mitchell, Williams, Selig, Gates & Woodyard, P.L.L.C. has been a progressive leader in the legal community. We are a full-service corporate law firm that provides strategic, comprehensive legal services to help clients achieve their goals. We work as advocates and partners to help our clients meet the variety of legal needs required to succeed in today's complex, competitive business environment.
With our 90 attorneys and four offices in Arkansas and Texas, we operate with a streamlined approach to build the most effective and skillful team possible for every client. Our team of lawyers offer a depth of knowledge and diverse professional experience, stemming from distinguished careers in government, business and law. Our trial lawyers are recognized for representing national companies across diverse industry sectors in their most important litigation matters. Our team of corporate lawyers consistently handle many of the largest transactions in the State of Arkansas and regionally bringing experience, skill, and focused client service to every deal. Our insurance regulatory practice is one of the preeminent practices in the United States and the distinguished team of lawyers handle regulatory issues for insurance industry clients in all 50 states and D.C. When a multitude of distinct skills are needed, our team draws on the resources of a full-service firm to provide the regulatory, litigation and business pieces that a complex matter sometimes requires.
For 65 years, we've valued our solid, long-term relationships with our clients above all else- they are the core of who we are.