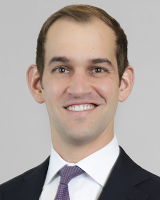 David A. Clark
Firm: Snell & Wilmer L.L.P.
Location: Denver - CO
Tabor Center




1200 Seventeenth Street Suite 1900




Denver, CO 80202-5854
Tel : 303.634.2000

Fax : 303.634.2020

Email : dclark@swlaw.com
David Clark's practice is concentrated in banking and commercial finance with an emphasis on loan originations (focused primarily on real estate lending and other asset-based lending), syndicated lending, and loan workouts and restructures.
Education
Rutgers University School of Law (J.D., 2012)

Dean's List (2011-2012)
First Year Honors (2010)
Research Assistant: Securities Regulation, Business Organizations, Investment Management

Southern Methodist University (B.A., Political Science and Public Policy, 2009)

University Scholar Scholarship
Other Professional Experience
United States Attorney's Office, Extern (2011)
Warren County Prosecutor's Office, Law Intern (2011)
Philadelphia Court of Common Pleas, Intern (2010)
BMI Mergers & Acquisitions, Broker (2009)
Snell & Wilmer L.L.P., Marketing and Attorney Development Assistant (2008)
Bar Admissions
Court Admissions
Supreme Court of Arizona
Supreme Court of Colorado
---
Snell & Wilmer L.L.P.
Snell & Wilmer's commercial finance practice is recognized as one of the premier lending practices in the western United States: 20 of the nation's top 25 institutional lenders rely on our commercial finance attorneys to manage their most important customers and transactions. Our attorneys offer a comprehensive range of commercial finance services, including transaction structuring advice, document production, due diligence assistance, transaction facilitation, project management services and post-closing services. While the types of commercial finance projects we handle often vary in size, complexity and prominence, our attorneys approach every commercial finance matter with strategies and solutions tailored to fit the needs and goals of each of our clients.
Areas of Service
Our commercial finance services include:
Factoring
Workouts
Restructures
Equipment financing and leasing
Letters of credit
Specialized project financing, including for Indian tribes and enterprises
Financial institution regulation
Open-end and closed-end consumer credit
Syndicated loan transactions
Agented multilender transactions
Multibank club transactions
Mezzanine financing
Individual secured and unsecured commercial loans of all sizes
Real estate acquisition
Securitizations
HUD and other federal loan programs
Clients We Serve
Our financial institution and borrower clients include real estate investment trusts, development companies, commercial banks and other financial institutions, insurers, entrepreneurs, Fortune 500 companies and leasing companies. In addition to representing many of the region's largest institutional lenders and developers, we also regularly represent private lenders as well as both established and emerging businesses in their financing transactions.
We help secure loans for a wide range of purposes and companies, including construction projects, non-profit and educational institutions, healthcare providers, condominium projects and residential tract developments, multistate and multinational borrowers, retail franchisees and venture companies.