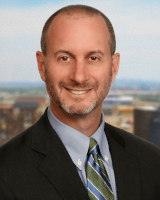 David B. Grantz
Firm: Meyner and Landis LLP
Location: Newark - NJ
One Gateway Center, Suite 2500




Newark, NJ 07102




USA
Tel : 973-602-3466

Fax : 973-624-0356

Email : dgrantz@meyner.com

David B. Grantz is a principal of Meyner and Landis LLP and a member of the litigation group, appearing regularly in New Jersey and New York state, federal and bankruptcy courts. David is an experienced commercial litigator who handles a wide variety of complex commercial litigation cases from commencement through mediation, arbitration, or trial and/or settlement and appeal. David represents large financial institutions, including national and state banking institutions, corporations, borrowers, landlords, insurance companies and other secured and unsecured creditors in a variety of matters including collection actions, replevin actions, mortgage foreclosures, indemnity actions, workouts and myriad bankruptcy matters. Throughout his 15 year career, he has concentrated on creditor's rights and financial services litigation where he has defended consumer fraud, uniform commercial code, lender liability and title claims. David repeatedly received the designation as a "Rising Star" in New Jersey monthly magazine. In September 2005, David successfully advocated on behalf of Fleet National Bank before the New Jersey Supreme Court that the "discovery rule" should not apply to claims of conversion of negotiable instruments (New Jersey Lawyers' Fund For Client Protection v. Fleet National Bank, et al., 186 N.J. 123, 892 A.2d 661, 59 UCC Rep.Serv.2d 192 (2006). David has also conducted seminars on the topic of Judgment Enforcement in New Jersey. David clerked for the Superior Court of New Jersey and has been with Meyner and Landis since he completed his clerkship in September 1997. He is a member of the Essex County, Union County, New Jersey, New York and American Bar Associations.
---
Meyner and Landis LLP
New Jersey Governor Robert B. Meyner began a law practice over 55years ago that is still going strong today. It is known as Meyner and Landis LLP and has had its offices in Newark since 1962.
Before founding Meyner and Landis, Bob Meyner was a popular two-term Governor of New Jersey from 1954 to 1962, defeating Malcolm Forbes for his second term. Governor Meyner was the first Democrat to be elected governor of New Jersey since 1940.
Despite Republican majorities in both houses of the legislature in his first term, Meyner succeeded in enacting many of his legislative proposals. During his tenure as Governor, he unearthed corruption in state government, tripled state aid to education, modernized state departments, established the Green Acres Open Space Program, completed the New Jersey Turnpike and created the Delaware River Basin Compact.
Governor Meyner was known for his commitment to open government and equal opportunity. Appealing directly to the citizens of New Jersey was central to his legislative success, Meyner hosted weekly television and radio programs and held frequent press conferences. In his first year of office, Meyner averaged 50 speeches a month.
He often hosted dignitaries at the Governor's Morven quarters including Harry S. Truman, John F. Kennedy, Lyndon B. Johnson, and Nelson A. Rockefeller. For a time, Meyner was considered as the 1960 Democratic candidate for the presidency.
Under the leadership of senior partner Bill Fiore, U.S. News and World Report now lists the firm as one of the best law firms in the country, a survey by in-house counsel lists the firm as a Go-To Law Firm for Fortune 500 companies and a number of attorneys have been selected for inclusion as NJ Super Lawyers in their respective fields, including John Malyska (banking), William Fiore (creditor rights), Anthony Siliato (immigration), Scott Malyk (immigration) and Albert I. Telsey (environmental). The Firm is AV Preeminent rated by Martindale-Hubbell.
Though the Firm is not involved in politics, the commitment to public service that Governor Meyner made so many years ago continues. In addition, the Firm strives to create an environment that encourages all its partners, associates, and support staff, to give back to the community that has allowed Meyner and Landis to thrive for over 50 years.