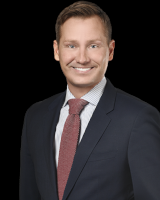 Jacob D. Bundick
Firm: Greenberg Traurig, LLP.
Location: Las Vegas - NV
10845 Griffith Peak Drive




Las Vegas, NV 89135




USA
Tel : 702.599.8038

Fax : N/A

Email : bundickj@gtlaw.com

Jacob D. Bundick focuses his practice on litigation, operational matters, and regulatory compliance for the residential mortgage industry. His clients include mortgage loan originators, servicers, and investors in individual and class consumer claims, bankruptcy adversary cases, and contested foreclosures. Jacob advises and represents corporate and institutional clients in federal and state court and various arbitration proceedings regarding claims arising under the Truth in Lending Act, Real Estate Settlement Procedures Act, Fair Credit Reporting Act, Fair Housing Act, Fair Credit Collection Practices Act, and those based on state fair lending, collection and deceptive trade practices. He also advises and represents corporate and institutional clients in copyright and trademark infringement matters, commercial contract disputes, construction and insurance matters, and real estate transactions.
Listed, Super Lawyers magazine, Mountain States Super Lawyers, "Rising Star," 2012-2018
Team Member, U.S. News – Best Lawyers®, Best Law Firms Edition, "Law Firm of the Year," Banking & Finance – Litigation, 2017
Listed, Las Vegas Business Press magazine, "Rising Star," 2015-2015
Listed, Nevada Business magazine, "Legal Elite," 2011-2013
---
Greenberg Traurig, LLP.
Five decades ago, while at lunch in a South Florida deli, attorneys Mel Greenberg, Robert Traurig, and Larry J. Hoffman, saw an opportunity to establish a new breed of law firm for South Florida; one that mirrored a New York style firm. In 1967, they founded the law firm Greenberg Traurig Hoffman, a quality business law firm where client service and collaboration ruled.
This new model was strong and scalable: deliver the quality of legal work to which substantial U.S. commercial clients were accustomed; truly listen to and work hand-in-hand with clients to help them achieve their goals (not simply drown them in legalese); and do so while offering a decentralized structure that would help them control their legal costs. This approach would also allow the new firm to develop substantial and long-term relationships with some of the top businesses in the region and, eventually, the world.
Fifty years after its founding, Greenberg Traurig has more than 2,100 attorneys and 41 locations on three continents.
As each new office opened, this unique culture was replicated, but never dictated. The firm grew by way of laterals who fit in and had a passion for quality work and collaboration, and in response to client needs. Greenberg Traurig has never added lawyers through a merger and remains one firm. Each new office can be traced to an opportunity to better serve clients.
There never has been a headquarters office. From Day 1, people have been empowered to do the right thing and the best thing no matter where they were sitting. These qualities have allowed the firm to thrive along with its valued clients, attorneys, and staff.
We are proud of our achievements and grateful to our founders and to all those who continuously work harder and smarter to expand their vision.