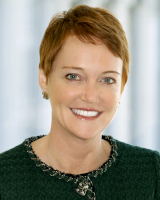 Jamie L. Boucher
Firm: Skadden
Location: Washington - DC
1440 New York Avenue, N.W.




Washington, D.C. 20005




USA
Tel : 202.371.7369

Fax : 202.661.8258

Email : jamie.boucher@skadden.com

Jamie Boucher is head of Skadden's Financial Institutions Regulatory and Enforcement Group and the global anti-money laundering and sanctions practice. Her clients include U.S. and international banks, thrifts, mortgage lenders, insurance, securities, money service businesses and investment companies.
Ms. Boucher, a member of the practice group named 2018 White Collar/Regulatory Litigation Department of the Year by The American Lawyer, regularly represents global financial institutions on complex cross-border compliance and enforcement matters including examinations, internal investigations, voluntary disclosures, and the resolution of administrative and enforcement proceedings involving federal and state regulatory agencies and law enforcement.
With extensive experience in cross-border anti-money laundering, economic sanctions, banking secrecy and data protection compliance matters, Ms. Boucher has counseled U.S. and international clients on numerous issues arising under the U.S. anti-money laundering and economic sanctions laws and related laws.
In addition to the representation of clients in investigations and contested proceedings, Ms. Boucher regularly works with financial institutions and their boards to provide guidance on compliance and corporate governance issues. She has worked extensively with clients to design and implement compliance programs, and to monitor and improve corporate compliance posture.
She also has represented clients on various aspects of federal lending, capital and liquidity support programs, including those established pursuant to the Emergency Economic Stabilization Act of 2008. She additionally advises clients on the implementation of the Dodd- Frank Act and strategic transactional and compliance responses to the Act.
Ms. Boucher is a frequent speaker at seminars on financial institution compliance and regulatory issues, mergers and acquisitions, and enforcement matters. She repeatedly has been selected for inclusion in Chambers USA: America's Leading Lawyers for Business and The Best Lawyers in America, as well as in Washingtonian Magazine's Best Lawyers list for her work in banking and regulatory enforcement matters. She was named a finalist in the Regulatory Lawyer of the Year category at the inaugural Chambers USA Women in Law Awards. Ms. Boucher also has repeatedly been named in Lawdragon 500 Leading Lawyers in America and as Best Lawyers' 2019 Washington, D.C. Litigation – Banking and Finance Law Lawyer of the Year.
---
Skadden
With 22 offices, more than 1,700 attorneys and 50-plus practice areas, Skadden advises businesses, financial institutions and governmental entities around the world on their most complex, high-profile matters, providing the guidance they need to compete in today's business environment.
Founded by Marshall Skadden, Les Arps and John Slate on April Fools' Day in 1948, Skadden began as a scrappy upstart among a sea of established "white shoe" law firms in New York. Joe Flom was hired as the firm's first associate later that year, and litigator Bill Meagher, the fifth partner to lend his name to the firm's letterhead as it appears today, joined in 1959.
Our first two decades were marked by slow and steady growth of our client base as we set out to establish ourselves as the go-to firm for our clients' most complex legal problems. Our willingness to handle proxy fights in the 1950s and early 1960s — matters deemed "ungentlemanly" by white shoe firms — positioned us to ultimately become the firm of choice for the hostile takeovers that dominated the M&A landscape beginning in the 1970s.
Recognizing the value of providing full-service advice to clients, from day one we sought to develop a range of complementary practices, like litigation, tax and antitrust. Client needs led us to open offices in other cities beginning in 1973, and the volume of work we were handling fueled exponential growth in the number of attorneys at the firm in the 1980s. That growth included a significant expansion of the practices we offered to clients, including restructuring, finance, real estate, mass torts and securities litigation, as well as the opening of offices in Europe and Asia.
In the nearly three decades since, we've built on that platform to provide advice to clients around the world on their most important matters. Our core values reflect the ideals of our history, and we remain committed to providing excellent lawyering and unrivaled client service in all our work.