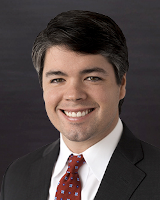 John W. Headrick
Firm: Mullin Hoard Brown LLP
Location: Amarillo - TX
Amarillo National Plaza Two




500 South Taylor, Lobby Box #213




Amarillo, Texas 79101-2445
Tel : 806-372-5050

Fax : 806-372-5086

Email : jheadrick@mhba.com

John is a partner whose practice focuses on finance and commercial transactions, mergers and acquisitions, corporate governance, and real estate matters. He has a broad finance practice including representation of financial institutions and borrowers in asset-based financing, real estate financing, agricultural financing, construction financing, working capital financing, letter of credit facilities, and energy financing.
Practice Areas
Banking & Finance
Business Transactions
Contract Review & Disputes
Business Formation & Organization
Environmental & Renewal Energy
Real Estate Development
BAR ADMISSIONS
State Courts
ASSOCIATIONS & MEMBERSHIPS
Amarillo Area Bar Association – Director (2019-2021)
Amarillo Area Young Lawyers Association
Stewards of the Wild – Amarillo Chapter (Executive Board)
BOC Bank – Director (2020 to present)
Leadership Amarillo and Canyon (2016)
Amarillo Country Club – Director (2022-present)
---
Mullin Hoard Brown LLP
Mullin Hoard & Brown has built its legal practice on representing local and national banks in loan workouts, lender liability, regulatory compliance and other lending practices. Our attorneys are trusted advisors with a vast knowledge of state and federal regulations who can meet the varying needs of banks and financial institutions. Our services include, but are not limited to:
Regulatory Compliance
Mullin Hoard & Brown has a reputation of representing banks and financial institutions in matters concerning their relationship with various regulatory agencies, such as the Federal Deposit Insurance Corporation (FDIC); Office of Thrift Supervision (OTS); Comptroller of the Currency (OCC) and other multi-state banking agencies. Our banking and finance attorneys have considerable knowledge on UCC issues, regulations on lending limits, capitalization requirements, conflict of interest, bank mergers and acquisitions and other such matters.
Commercial and Consumer Lending
Mullin Hoard & Brown represents lenders in many consumer and commercial lending transactions. We routinely work with clients involving secured loans, unsecured loans and loan modifications. Our banking and finance attorneys have experience with inter-bank participation transactions and are knowledgeable in the preparation of many essential loan documents, including:
Credit agreements

Interest rate option

Subordination agreements

Collateral agreements

Purchase and sale agreements

Letters of credit 
Workouts and Restructuring
Mullin Hoard & Brown represents banks, lenders, and other financial institutions in loan workouts, restructuring, and foreclosure matters, including matters of bankruptcy. We work hard to protect our client's investments and recover the maximum amount of collateral.
Creditor Rights
Mullin Hoard & Brown has a history of representing a broad suite of financial service providers in cases regarding creditors rights involving commercial and real estate lending for both secured and unsecured loans.
Lender Liability
Mullin Hoard & Brown banking and finance attorneys counsel banks and lending institutions to develop lending policies that help reduce the risk of possible claims. These claims include, but are not limited to:
Refusal to renew loans

Refusal to honor loan commitments

Breach of contract

Improper foreclosure notices

Improper foreclosure

Selling borrowers' collateral

Fiduciary duty breach
Duties of Directors and Officers
Mullin Hoard & Brown has represented the FDIC in claims against former directors and officers for over 25 years. This equips our banking and litigation attorneys with unique intelligence to represent banks and other financial institutions on matters relating to the responsibilities of directors and officers. Our directors and officers liability knowledge can help reduce the risk possible claims from a regulatory agency. Our effectiveness in this area is represented by the clients we work with:
Amarillo National Bank

Bank of America

Bank One, Texas, N.A

City Bank

First Bank Southwest, N.A.

Gruver State Bank

Herring National Bank, National Loan Investors, L.P.

South Plains Financial Services, Inc.

Wells Fargo Bank
Our financial institution clients include, but are not limited to:
Banks

Trust companies

Savings institutions

Asset-based lenders

Factors

Commercial finance lenders

Conduit lenders

Consumer finance companies

Mortgage bankers

Credit card servicers

Leasing companies

Public accounting firms

Special servicers