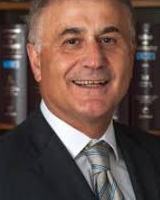 Joseph Capobianco
Firm: Reisman Peirez Reisman & Capobianco LLP
Location: Garden City - NY
1305 Franklin Avenue




Garden City, NY 11530




USA
Tel : (516) 746-7799

Fax : (516) 742-4946

Email : jcapobianco@reismanpeirez.com

Joseph Capobianco joined Reisman Peirez Reisman & Capobianco in 1990, and practices in litigation, commercial, corporate, bankruptcy and real estate law. Capobianco frequently lectures before various professional associations and community organizations.
"Our practice has been built around offering intelligent service to our clients, and we are so proud that our peers have recognized this, naming us one of America's best lawyers. It is a true honor for our firm, as we remain true to our mission of offering knowledge, experience, and vigorous representation resulting in unmatched service to our clients," explains Capobianco.
Joe is a life-long resident of Glen Cove and is active in the community. He serves as a Director of the Nassau Health Care Corporation which operates the Nassau County Medical Center in East Meadow. He also is on the Board of Managers for the Glen Cove YMCA.
---
Reisman Peirez Reisman & Capobianco LLP
Reisman Peirez Reisman & Capobianco is an award winning law firm in the heart of New York that merges our experience and knowledge of New York and Federal Law with focused service. Founded in 1980, the firm has provided top legal representation for more than 30 years. Areas of expertise include matrimonial and family law, commercial litigation, real estate, environmental, estate planning and general business practices, as well as financial services. Our emphasis is to reach the highest level of success for our clients through personalized service. Each client works directly with the firm's partners to resolve their business and personal legal matters.
An attorney should be both your advocate and your advisor, and must truly understand your business and your goals. Reisman Peirez Reisman & Capobianco has always been devoted to the business and political communities on both the national and regional levels, in addition to serving the legal profession.
Our New York law firm is located in Nassau County, Long Island, across from the Nassau County Seat of Government in Garden City. Within walking distance of the Mineola Station of the Long Island Railroad, our office is easily accessible from Manhattan and LaGuardia and Kennedy Airports. Our clientele is located throughout the United States, and our litigators regularly appear in U.S. Federal Courts, U.S. Bankruptcy Courts and New York State Courts at the trial and appellate levels.