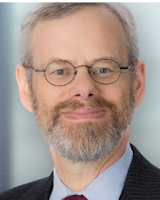 Larry K. Harris
Firm: Polsinelli
Location: St. Louis - MO
100 S. Fourth Street, Suite 1000




St. Louis, MO 63102




USA
Tel : 314.889.7063

Fax : 314.622.6763

Email : lharris@polsinelli.com

Larry Harris enjoys helping banks achieve their goals. He regularly assists financial institutions in such matters as:
Mergers and acquisitions
Formations
Regulatory issues
Capital raising
Director and shareholder controversies
Vendor agreements
Review of bond and insurance policies
In addition to banks and their holding companies, Larry works closely with other private and public general business corporations, assisting with formations, mergers and acquisitions, contract matters, and securities offerings.
Larry is a member of the Corporate and Transactional practice at Polsinelli, and the Financial Institutions Industry Group, reflecting his dedication to knowing and staying current with the "ins and outs" of this critically important industry. Whether your bank is a one-facility institution located in a small town or a sophisticated branch network reaching into several states, he understands the regulatory and business challenges you face on a day-to-day basis and will provide the answers to your questions.
Larry is also a member of the Corporate Finance and Securities practice group, providing advice and solutions with respect to a variety of federal and state securities law matters. Larry began his practice as a staff member at the Securities and Exchange Commission, where he was the principal drafter of the Insider Trading Sanctions Act of 1984. He counsels clients on private and public securities offerings (including IPOs) as well as ongoing Exchange Act compliance matters.
Distinctions
Exclusive Featured Attorney Representing St. Louis, Premier Banking Lawyers 2022
Selected for inclusion in The Best Lawyers in America® in the following fields:

Banking and Finance Law, 2020-2022
Litigation – Banking and Finance, 2022
Principal Drafter of Federal Insider Trading Sanctions Act of 1984, Amendment to the Securities Exchange Act of 1934
Martindale-Hubbell AV Preeminent® Peer Rated for Highest Level of Professional Excellence
Memberships
American Bar Association

Corporation, Banking and Business Law Sections
Bar Association of Metropolitan St. Louis
Illinois State Bar Association
---
Polsinelli Financial Institutions Practice
The Banking and Financial Institutions practice at Polsinelli has extensive experience advising bank and non-bank financial institutions and their holding companies with respect to a broad range of corporate and business issues. These services include initial corporate formation, licensing, capital raising, establishing new branches, locations or offices, mergers and acquisitions, compliance with regulatory requirements, director and officer responsibilities, employment matters and operational issues. Our attorneys have a deep understanding of our clients and their business in the ever-changing financial environment, which allows us to provide them with straightforward, practical advice to achieve their goals in an increasingly complex regulatory landscape.
Our team has represented numerous clients in the merger, acquisition and divestiture of financial institutions and holding companies, both as buyers and sellers. This includes structuring the deal terms, securities law issues, regulatory applications and acquisition financing. We have also served as issuers' counsel in various public and private offerings of bank and non-bank financial institutions securities.
We advise executive officers and boards of directors with respect to their responsibilities and obligations. Our attorneys represent financial institutions and holding companies before federal and state regulatory agencies. We appear on behalf of clients as part of the examination process and with the filing and approval of various applications and advising clients with respect to ongoing compliance with federal and state laws and regulations, and responding to regulatory enforcement actions. We help steer our non-banking clients like money transmitters and non-bank lenders through the tangled web of state regulatory requirements, often assisting our clients in developing and submitting applications for licensure. Our clients benefit from the strong working relationships we have developed with the various federal and state regulators.
We provide a comprehensive array of services to the firm's financial institution clients, including:
De novo formation/incorporation (non-bank, bank and bank holding companies)
Special purpose (non-bank) subsidiaries (primarily for fee-based income)
Shareholder agreements (buy-sell, voting, and the like)
Capital raising and securities matters
S-Corporation reorganizations
Corporate and business planning, including mergers, acquisitions and sales
Hostile takeovers/defense
Shareholder and board of director controversies
Reverse stock splits
Vendor agreements
Insurance coverage
Executive compensation, employment and benefits matters
Counseling to avoid regulatory problems
Skilled communication and negotiation with all regulatory agencies
Planning and implementing corrective actions
Compliance with regulatory requirements:
Capital requirements
AML/OFAC matters
GLB Act privacy matters and notices
Identify theft response
Affiliate transactions (23A and 23B, and Reg W and Reg O)
Lending and operational regulations
---
Polsinelli PC
Polsinelli is an Am Law 100 firm with more than 950 attorneys in 21 offices nationwide. Recognized by legal research firm BTI Consulting as one of the top firms for excellent client service and client relationships, the firm's attorneys provide value through practical legal counsel infused with business insight, and focus on health care, financial services, real estate, intellectual property, middle-market corporate, labor and employment and business litigation.
In 1972 Jim Polsinelli and colleagues formed the firm to serve business and real estate clients in a small office in the historic Country Club Plaza District in Kansas City, Missouri. The firm has continued to see impressive growth over its 45+ year history with expanding practice areas and office additions, most recently in Miami. The addition of these offices is part of our strategic plan to better serve the increasing needs of our clients.
We strive to align our services to our clients' business goals. Doing so has allowed us to attract experienced attorneys across the country seeking a platform best suited to their clients' priorities. With our firm's concentration of presence in lower-overhead markets, we are able to offer more comprehensive services than local or regional firms and more competitive overall cost than national firms concentrated in higher cost markets.
Polsinelli's success begins and ends with a belief in treating one another and our clients with mutual respect. We are committed to achieving not only our clients' goals, but to supporting our communities and our colleagues.
What's it like to work with Polsinelli?
The unique qualities and experiences that each person contributes allow us to develop strong relationships, internally and externally, and offer more impactful solutions to issues facing our clients and our organization. We hold high expectations of every staff and professional member of the firm, with a service mindset of going beyond – delivering more than what was asked, proactively anticipating needs, and always considering the implications and relevance of a given task or deliverable.
We continually invest in our people by providing opportunities for professional development based on each person's desired career path. Our goal is to give each individual the opportunity to achieve their best and take pride in their performance and quality of work.
Polsinelli culture values its people – their goals, their families, and their professional development. In so doing, we believe we are best placed to do the same for our clients.
Polsinelli's firm values have held strong and served to support its dramatic growth:
We treat one another and our clients with mutual respect
Our people, our integrity and our reputation are our most valuable assets
Diversity and inclusion matters to us and brings true value to our clients.
We provide practical, business-driven legal counsel grounded in an understanding of our clients' business objectives not just our own
We recognize the complex challenges that our clients face by:
Ensuring that matters are handled by attorneys at the firm with appropriate experience wherever they may reside
Mobilizing to respond and execute with urgency and ownership
Delivering value through a reasonable cost structure that leverages our experience and works within our clients' business parameters