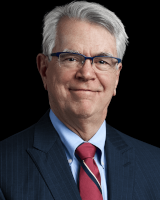 Mark B. Hillis
Firm: Carmody MacDonald P.C
Location: St. Louis - MO
Tel : (314) 854-8650

Fax : (314) 854.8660

Email : mbh@carmodymacdonald.com

Mark B. Hillis concentrates his practice in the areas of banking and commercial finance, closely held businesses and commercial real estate. He is an enthusiastic participant with the firm's Emerging Business Group.
Mark has extensive experience in representing banks and other financial institutions, closely held businesses, commercial real estate developers, and businesses with private equity needs. Recent representative engagements for clients include industrial and commercial mortgage financings, bank regulatory engagements, private equity investment and roll-up of real estate facilities, stock and asset purchase transactions, and real estate acquisitions, developments, leasing and sales.
With more than 40 years of professional experience, Mark is a leader in the legal community. For 20 years, he has been recognized by Best Lawyers® on their list of The Best Lawyers in America – Real Estate Law. He has been identified by St. Louis Magazine as one of St. Louis' Best Lawyers and he is regularly recognized by Missouri & Kansas Super Lawyers for banking law. In addition, he has been a frequent participant in the Missouri Bankers Association's annual Legal Counsel Conference.
The son and grandson of attorneys, Mark is personally committed to mentoring young attorneys.  He works closely with young lawyers at Carmody MacDonald and was a former visiting assistant professor of law at Washington University School of Law.
A native of the northern Indiana town of Logansport, he earned his J.D. from the University of Michigan, Ann Arbor, where he was a member of the Order of the Coif, and earned his B.A. in political science and economics from Stanford University, Stanford, CA.
---
Carmody MacDonald P.C
Carmody MacDonald P.C. is a St. Louis-based law firm focused on establishing close relationships with clients, serving as valued counselors, and providing exceptional service. Clients choose us because they are looking for practical, cost-effective solutions for complicated legal situations. The firm's culture is to foster and preserve personal relationships with clients through a genuine devotion to each cause.
The firm is committed to providing all clients with the highest quality of legal services, whether they are small businesses, large corporations, individuals, or families.
With practices in business, individual, and litigation services, and special focus areas such as Missouri corporate law, bankruptcy, banking and finance, and real estate, Carmody MacDonald's attorneys easily coordinate among their many focus areas to provide legal services addressing virtually every aspect of clients' business, individual, and litigation needs.
Founded in 1981 by Donald R. Carmody, Leo H. MacDonald, Sr., and John E. Hilton, the firm was built upon the values of responsibility, strategic thinking, confidence and diligence, all of which have been ensured and cultivated to this day through sophisticated legal services demonstrated by all attorneys. The firm's size provides clients with a unique advantage by offering the value of a mid-sized firm but the depth of offerings of a larger firm.
Carmody MacDonald's values are further exemplified through its commitment to providing services to non-profit organizations and its dedication to pro bono work. Carmody MacDonald prides itself on representing clients who also share in these values.