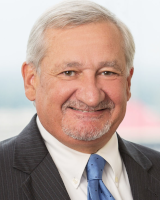 Richard A. Vance
Firm: Stites & Harbison
Location: Louisville - KY
400 West Market Street Suite 1800




Louisville, Kentucky 40202-3352




USA
Tel : 502-681-0454

Fax : 502-587-6391

Email : rvance@stites.com

Rick Vance's practice focuses on financial institutions, real estate law, antitrust, trade associations and the industrial hemp industry.
PRACTICE AREAS
Financial Institutions
Financial Services Litigation
Antitrust, Consumer Protection & Attorney General Defense
Creditors' Rights & Bankruptcy
Real Estate & Land Use Litigation
Trade Association Law
Recent Assignments
Compliance and Real Estate:
Assists affordable housing trust funds with low income housing projects
Assists banks and financial institutions with compliance with state and federal statutory and regulatory licensing and compliance
Assists out-of-state lenders with compliance and real estate documentation and transactions and formal legal opinion advice
Assists the Kentucky Bankers Association in analyzing and drafting real estate and banking legislation, including the Uniform Commercial Code
Advises national clients on Kentucky legislative and regulatory developments
Antitrust and Trade Associations:
Advises national and state trade associations on antitrust issues such as industry surveys and information sharing, membership and trade show policies, and product certification and standard setting programs
Prepares HSR premerger notifications and defends second requests
Advises hospitals, physician practices and other healthcare providers on the antitrust aspects of strategic transactions
Defends companies against competition claims, including tying, price discrimination and dealer termination
Defends antitrust investigations of the Federal Trade Commission, Department of Justice and Kentucky Attorney General
Litigation:
Defends banks and financial institutions against TILA, RESPA, TCPA, FDCPA, UCC, usury and other statutory and common law claims
Defends investigations and enforcement actions brought by the Consumer Financial Protection Bureau (CFPB), FDIC, and Kentucky Attorney General
Real estate and title insurance litigation
---
Stites & Harbison
Welcome to the Stites & Harbison, PLLC.
As a firm dedicated to our clients, you will find ethical, loyal, talented, and smart attorneys working together, across offices and practices, to ensure client satisfaction. Our mission statement, Service First; First in Service, is something we live by every day to ensure exceptional client service and value.
The firm represents a broad spectrum of clients including multinational corporations, financial institutions, pharmaceutical companies, health care organizations, private companies, nonprofit organizations, family-owned businesses and individuals.
The firm maintains 10 offices across the Southeastern region and is able to service the needs of international clients with its memberships in Business Counsel, Inc. and Lex Mundi. Additionally, Stites & Harbison is a member of The Harmonie Group, the national network of top litigation law firms, and is the Kentucky representative to the prestigious Southern Law Network.