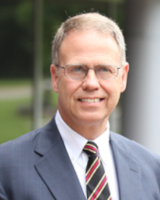 Stephen M. Hammersmith
Firm: BUCKINGHAM
Location: Akron - OH
3800 Embassy Pkwy, Suite 300




Akron, OH 44333




USA
Tel : 330.258.6417

Fax : 330.258.6559

Email : nwhitman@bdblaw.com

I am a commercial finance attorney with over 30 years of experience representing borrowers, banks, underwriters and bond purchasers as they navigate their financial and transactional circumstances.
I guide my clients through various financing and transactional matters in addition to structuring numerous loans, leases and tax-exempt bonds. I draft and negotiate a wide range of commercial transactions for my clients including general commercial contracts, supply agreements, purchase and sale warranties and disclaimers, and letters of credit.
Because of my experience handling sophisticated matters, I am able to properly advise my clients on whatever corporate finance issues or transactions they face. My goal is to make the process as easy for my clients as possible, which means I stay on top of their cases, I keep them informed every step of the way, and I show my clients the respect and dedication they deserve from an attorney.
---
BUCKINGHAM
Buckingham, Doolittle & Burroughs is Northeast Ohio's business law firm. We've served the Akron, Canton and Cleveland areas for over 100 years; therefore, this region has become our home and the businesses in this region have become our family. We don't just represent you. We support you and stand by you; we understand your business and become an extension of it; we celebrate with you and cheer for you; we go to great lengths for you, and we listen to you. For all of these reasons we are more than a business law firm. We are your partner in business.
We have thrived over the years because of this work ethic. Our long history in the region reflects the depth of experience our attorneys possess, not only in the practice of law, but in the industries you live and breathe every day. We know that we have to understand your business in order to protect it, a philosophy established by our founding fathers.
The Buckingham, Doolittle & Burroughs partnership was founded in 1913 between Frank J. Rockwell, a former county prosecutor and future mayor of Akron, and Princeton University Graduate Charles T. Grant. An esteemed labor and employment attorney, Lisle M. Buckingham joined in 1929, and Gillum H. Doolittle, a distinguished trial lawyer, joined in 1934. Finally, Edmund Burroughs, a Harvard Law School graduate and former editor of the Harvard Law Review, joined in 1943.
We have continued to add talent and evolve as times change. However, the integrity upon which our firm was built is still reflected in our people and in the services that we provide.
Today we are recognized as one of the top business law firms in the region, but we are so much more than that. Find out why Buckingham is the law firm of choice for hundreds of Northeast Ohio businesses.