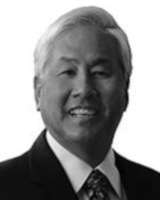 William W.L. Yuen
Firm: Dentons
Location: Honolulu - HI
1001 Bishop Street Suite 1800




Honolulu, HI 96813




USA
Tel : 808 441 6214

Fax : 808 524 4591

Email : william.yuen@dentons.com

William W.L. Yuen, a partner in Dentons' Honolulu office, has, over a career spanning more than 40 years, helped shape Hawai`i's real estate and financial sectors. Bill has extensive experience in real estate development and transactions, land use and planning law, securities law, public finance law, corporate and business organization law, banking and financial services law, venture capital financing, and environmental law.
Bill's extensive experience regularly proves invaluable in helping clients negotiate and structure real estate deals; acquire the land and obtain entitlements for commercial, resort or residential projects; provide full transactional advice on acquisitions and reorganizations of businesses; design and structure complex financing transactions; and tap capital markets. Bill has organized public–private partnerships (P3s), venture capital funds and technology startups, and assisted Hawai`i landowners in transitioning from plantation agriculture to other land uses.
Bill is one of the few attorneys in Hawai'i with formal education and experience as a professional urban planner. His familiarity with the land use regulatory process will help guide landowners and developers who require approvals from the state's Land Use Commission, Board of Land & Natural Resources, Hawaii Housing Finance and Development Corporation, Hawaii Community Development Authority, and various county planning commissions, planning departments and boards of appeal.
Bill has served as bond counsel, underwriter's counsel, bank counsel, borrower's counsel and trustee's counsel in several billion dollars' worth of bond transactions.
An example of Bill's P3 work is Hawaii's Green Infrastructure Loan Program (GILP). In 2013 Bill co-authored the legislation creating the program, to be administered by the Hawaii Green Infrastructure Authority. He subsequently assisted the Hawaii Department of Business and Economic Development in obtaining Public Utilities Commission approval of the program. He then led the team that served as co-underwriter's counsel for Goldman Sachs in connection with a US$150 million Green Energy Market Securitization (GEMS) bond transaction, which The Bond Buyer selected as "Innovative Financing Deal of the Year" for 2014-15.
In addition to a JD from Rutgers University School of Law, Bill holds a BA from Yale College and an MCP (Master of City Planning) from Yale School of Architecture .
Bill is a member of the American and Hawaii State Bar Associations, American Planning Association and the National Association of Bond Lawyers; a past chair of the Hawaii State Bar Association's Real Property and Financing Services Section; and an officer and Director of the Hawai`i Forest Institute. He is a former director of Pacific Resources, Inc. (when it was Hawaii's only Fortune 500 corporation). Bill has also served as chair of the state's Land Use Commission, as a member of the state's Board of Land & Natural Resources and as a chair of the Research Corporation of the University of Hawai`i.
---
Dentons
With 176 locations in 79 countries, Dentons is home to top-tier talent that is found at the intersection of geography, industry knowledge and substantive legal experience. Working with Dentons, you will have the opportunity to learn from the best lawyers in the industry at the largest law firm in the world.